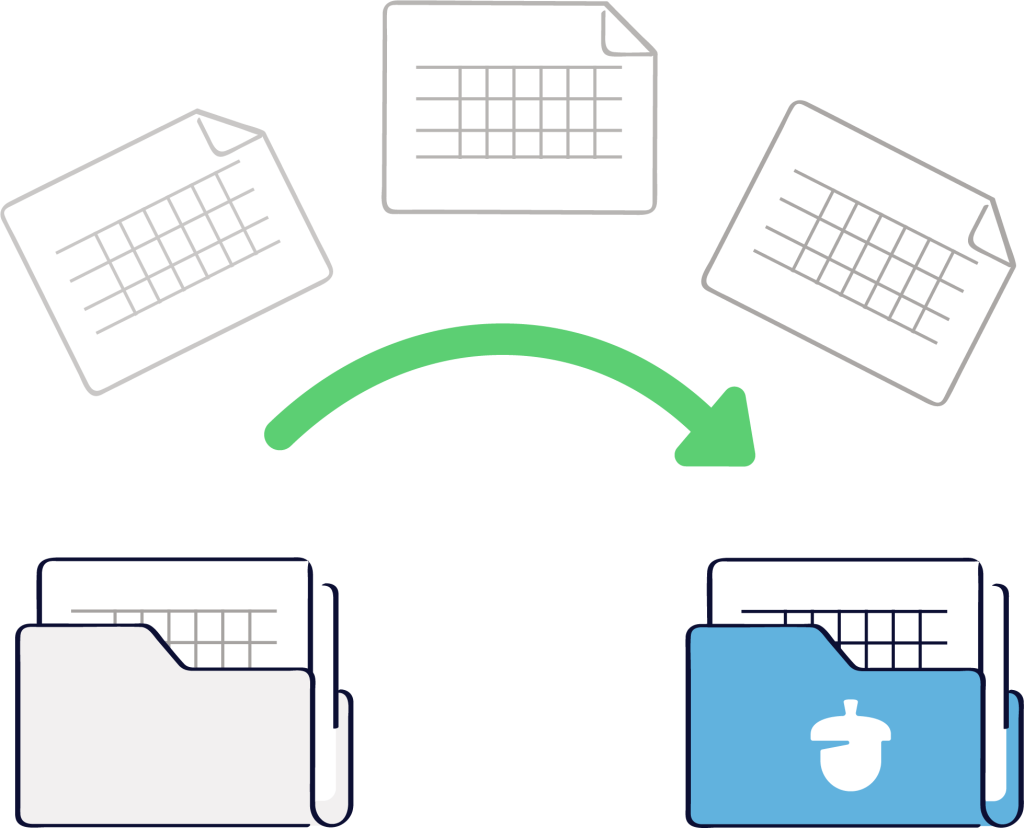 Spreadsheets have been around for years, and many still consider them the tried and true method of managing data. But when it comes down to improving your team's productivity and efficiency, spreadsheets have a lot of limitations. 
Want to see a chronological record of your sales activities or an overview of who's in your sales pipeline? A spreadsheet can't help you. And forget about creating a standardized sales process based on what methods produce the best results for your team if you're tied to spreadsheet data. 
To accomplish more and drive more revenue, your team needs a customer relationship management platform (CRM). CRMs are systems businesses use to improve sales pipeline management and team collaboration and avoid common spreadsheet pitfalls. This comparison between CRMs and spreadsheets will show how much more helpful a CRM is for driving business success. 
What is the difference between a CRM and a spreadsheet?
Although CRMs and spreadsheets both store and organize your customer data, the main difference is that they come with vastly different features and help your team accomplish different tasks. 
CRMs organize your customers' and leads' information, display an in-depth view of your sales pipelines, enable communication between your team, and automate sales and marketing tasks to increase efficiency. In contrast, spreadsheets were designed for one thing: organizing large amounts of data in columns and rows. 
6 signs spreadsheets are holding you back
It may be hard for your team to say goodbye to spreadsheets, and understandably so. Spreadsheets are familiar, even comfortable, and have their advantages. For example, spreadsheets are simple for anyone with Excel or Google Sheets experience to understand, and they allow you to easily recalculate data using formulas. 
But if you take a hard look at your sales and marketing success, you might find that your use of spreadsheets is hurting, not helping. There are a lot of things spreadsheets can't do, like automating sales processes and organizing your communication. And even if you're using a CRM spreadsheet template, you're still operating with stripped-down features. 
Here are a few signs that spreadsheets are holding your team back from fulfilling their full potential: 
Your sales team struggles to keep track of their interactions with prospects.
You don't know which sales activities produce the best outcomes. 
You don't have a standardized sales process. 
Your team can't effectively forecast sales or analyze deals in your pipeline.
You don't have a bird's-eye view of your sales pipeline. 
You don't have your customer and lead data integrated with other tools, like marketing platforms. 
How are CRMs better than spreadsheets?
CRMs bring significant advantages over spreadsheets that can help your team sell better and operate more efficiently. Take a look at the top reasons why CRMs are better than spreadsheets: 
| | | |
| --- | --- | --- |
| | A CRM… | A spreadsheet… |
| Data organization | Stores your data and communications and makes information searchable | Makes it difficult to enter and search for data |
| Sales process standardization | Automates sales processes and helps your team work efficiently | Doesn't standardize any aspect of your sales process |
| Sales pipeline analysis | Gives you a real-time view of your pipeline so you can analyze deals | Provides no insight into where leads are in your pipeline |
| Team collaboration | Enables your team to communicate within the platform and track all interactions | Makes it tricky to assign tasks to sales reps |
| Report generation | Generates deep reports to illuminate what turns your leads into customers | Won't let you easily create reports |
Spreadsheet and CRM comparison chart
1. CRMs keep all your data and interactions in one place 
CRMs store and organize all your data and communications in a single location, from your first contact with a lead to your ongoing communication with customers. While your team could manually enter this information into a spreadsheet, it would be incredibly time-consuming and difficult to search.
A CRM centralizes lead contact information, buying history, records of interactions, and so many more types of data, so your team doesn't have to keep multiple spreadsheets or try to duplicate data across systems. And with easy-to-read dashboards, it's easier for you to quickly access the information you need. 
2. CRMs enable sales process standardization
Standardization can make many aspects of your sales process easier, from automating email outreach to crafting the perfect sales process. When your sales reps know exactly which leads are coming their way and what actions to take at each stage in the sales pipeline, they can work at maximum efficiency. 
With a CRM, you can turn proven sales activities into a repeatable process for your sales team to follow, helping them work faster and focus on strengthening relationships. CRMs allow you to design a consistent sales process and provide your reps with guidance and reminders, then measure your impact and improve your process. 
3. CRMs reveal the real status of your sales pipeline 
Ever been unsure how many deals you have in the pipeline or how many are likely to convert? Spreadsheets make it tricky to get a bird's-eye view of what's going on in your sales pipeline. 
With a CRM, you'll never be in the dark. CRMs compare real-time pipeline views to show you how many leads are in each stage of the sales process and help you quickly analyze deals and forecast sales. 
4. CRMs keep everyone on the same page  
Collaboration with your reps is crucial for making the biggest impact as a team. Sales reps sometimes need help managing a lead or finding an email, and they need to be able to quickly reach the person or data they're looking for.  
When you use a CRM, there's no more hunting for buried comments in a spreadsheet or forgetting who has that email from a lead. A CRM keeps team collaboration front and center and prevents communication from falling through the cracks. You can also easily assign tasks and stay notified as sales reps accomplish them, seeing into your team's overall productivity. 
5. CRMs generate helpful and actionable reports
Spreadsheets make it challenging to quickly gain insight into your team and company's data and drill down into the numbers. Yet reporting is crucial to identifying where your sales team excels and where they can improve.
With a CRM's powerful reporting capabilities, you can tap into your team's performance metrics in a fraction of the time it would take you to create similar reports from a spreadsheet. Track your sales, lead volume, and team productivity to create an unstoppable action plan. 
How to choose a CRM 
When you put CRMs and spreadsheets head to head, CRMs are a clear winner in the functionality and flexibility department. But how do you choose which CRM to use? There are dozens of options, all with unique combinations of features at various price points. 
Here's how to pick the CRM that's really going to help your team reach new heights:
1. Compare prices 
Price is one of the most important things to consider when choosing a CRM for your business. Consider what types of features and customer support you get for your money. 
2. Read reviews 
Customer reviews are a great place to research different CRMs and their performance. As you read reviews from a trusted review site like G2, consider the quantity and quality of reviews. Pay attention to the specific reasons why a CRM received a positive or negative review and whether those reasons are important to your company. 
3. Compare CRM features
If your team has been operating out of spreadsheets, you can gain a lot of benefits from the automation, communication, and reporting features a CRM offers. Compare the features you get with different CRM plans to find the one that works best for you. You can use this CRM comparison worksheet to see which CRM best fits your needs.  
4. Consider how easy it'll be to switch 
The final consideration when choosing a CRM is how easy it will be for your team to learn the new system. Any time you introduce a new software or platform to your sales team, there's going to be a learning curve. But if your team isn't very tech-savvy, it's beneficial to find a CRM that doesn't require much training. 
Also, keep an eye out for CRMs that charge for software implementation or basic customer support. You want your sales representatives to be able to hit the ground running while still having access to customer support when needed. 
How to move your spreadsheet data to a CRM
So you've decided it's time to switch your customer data from a spreadsheet over to a CRM, and you've chosen the platform you think will work best for your team's needs. But how do you export that data while ensuring it all stays intact? 
Follow these steps to efficiently move your spreadsheet data into your CRM:
1. Start with clean data 
It's important to ensure your CRM data is accurate, or else it'll be unusable to your team. Clean up your spreadsheet data so you don't transfer a tangled mess into your CRM. Start by removing duplicate leads and standardizing the format of your data.
2. Export your spreadsheet 
Next, you'll want to export and download your spreadsheet as a CSV file. This process will vary depending on if you're using Excel or Google Sheets. 
3. Import your data
The final step is importing your spreadsheet data directly into your CRM. As long as you've prepared your CRM with the custom fields, tags, and company types that are part of your import, this step should be easy. If you need any help, your CRM might be able to help you with a white-glove import service. 
Frequently asked questions comparing CRMs with spreadsheets 
If you're still researching what it would take to switch from spreadsheets to a CRM, check out these FAQs to learn more:
Can I use a spreadsheet as a CRM? 
While you can use a spreadsheet to manage your sales and marketing processes, it won't get you the best results. Spreadsheets make it difficult to stay on top of leads, automate steps in the sales process, collaborate with your team, and generate reports. For growing businesses, a CRM is hands-down the better option. 
What is a CRM spreadsheet?
A CRM spreadsheet is a template you can use in Excel or Google Sheets to make your spreadsheet more like a CRM. An Excel or Google Sheets CRM template can help organize lead contact information and records of communication, all within your spreadsheets. However, CRMs provide much fuller functionality, going beyond the basics to automate your sales processes, improve communication, and drive results.
Ditch the spreadsheets and start selling better with a CRM 
Are you ready to take the leap from spreadsheets to a CRM? Nutshell can help. Our award-winning CRM provides businesses with the tools and features they need to convert more leads to customers. 
Nutshell makes it easy to automate your sales process, create meaningful reports, collaborate with your team, and so much more. With robust customer support to help your team make the shift and answer any questions you have along the way, Nutshell offers all the resources you need to take your sales performance to the next level.
Want to see Nutshell in action? Start your 14-day free trial or check out our pricing and plans. 
BACK TO TOP