In sales and marketing, knowledge of your target audience is power. The more information you have about your prospects, leads, and customers, the better your team can tailor their sales and marketing efforts to their needs—and the more you can grow your business.  
The new Company Enrichment feature in Nutshell gives your team more insight into your customers, inputting rich firmographic data right into your CRM so you can leverage it to reach the right people with your products and services.  
Learn more about this new product update in Nutshell and how it can help your business thrive. 
What is Company Enrichment?
Company Enrichment is a new update in Nutshell that automatically gathers firmographic data to make your Companies smarter than ever. This new update gives your team access to data that will enhance your understanding of and interactions with your customers.  
Company Enrichment is similar to People Enrichment, a feature that finds as much information as possible about new People you enter into Nutshell. People Enrichment is powered by Nutshell Intelligence, the same tool now powering Company Enrichment. 
Using our proprietary IP address intelligence, Company Enrichment gathers all the publicly available information about a new Company you add to Nutshell. By leveraging the actionable insights from this data, your team can connect with your customers in new ways and optimize your sales and marketing approaches. 
With Company Enrichment, you can access information including: 
Company name 
Industry 
Address 
Website
Annual revenue 
Number of employees 
Phone 
Email
What can you do with Company Enrichment? 
Company Enrichment allows you to do several things with the data gathered by Nutshell Intelligence. Here's an overview:
Review new data 
You'll see a "Review new data" notification on a Company page when Nutshell Intelligence gathers enriched company data. Click on "Review" to see the updated data alongside your existing Company data.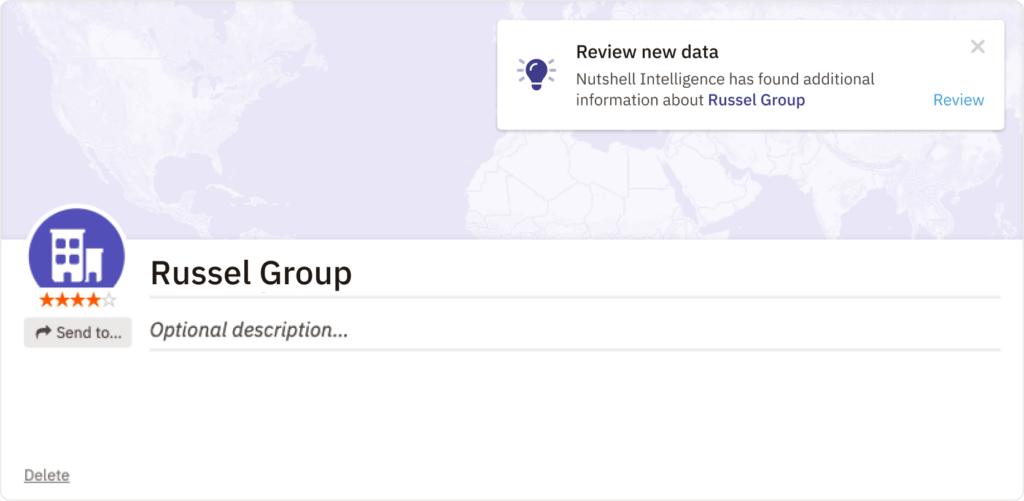 Accept or decline company enrichment data 
In the "Review new data" popup, you'll see Company Enrichment data right next to the information you already have for the company. This view makes it easy to see whether your current information is up to date. 
You can either accept the new data and update your Company page or reject it if it's inaccurate or matches the wrong company. Company Enrichment will not automatically override manually entered data. When you accept or decline new Company Enrichment data, you either enrich all the fields or keep them as they are.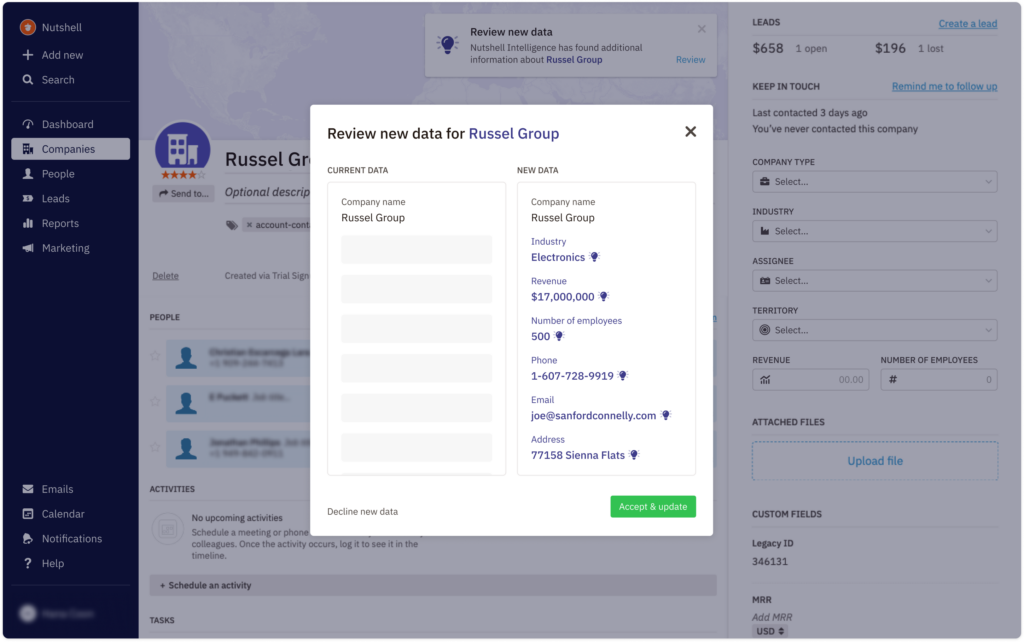 See who has enriched company data 
If you want to track what changes have been made to company data with Company Enrichment, you can do that too. Once someone selects "Accept & update," that person's name and when they enriched the data will be added to the Company timeline.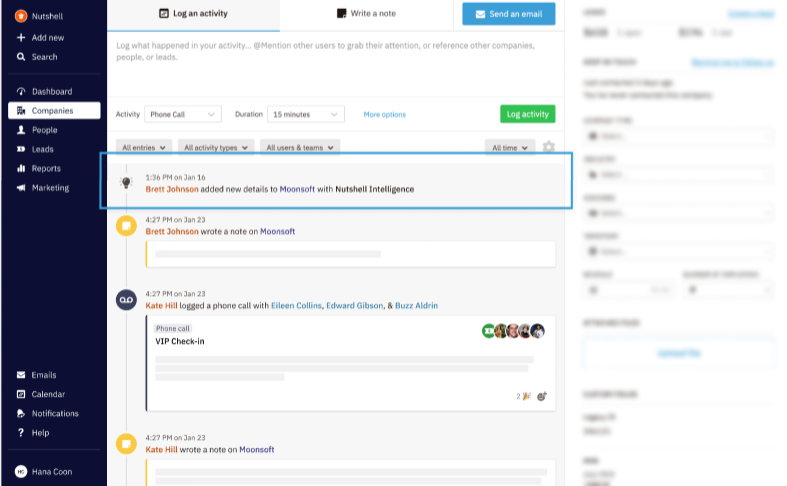 And if you prefer not to see enriched company data, you can opt out of Company Enrichment by disabling "Companies" on the setup page. 
Start learning more about your customers with Company Enrichment 
Ready to gain access to enriched data for your companies? Nutshell Intelligence works quietly in the background and will find enriched data when you add new companies or view existing ones. Feel free to contact our support team if you have any questions, and happy Nutshelling!
And to see what other updates we have in the works, check out our 2023 spring product roadmap!
BACK TO TOP